1000L Craft Beer Equipment Hot Sale 10HL Micro Beer Brewery Equipment
1000L Craft Beer Equipment Hot Sale 10HL Micro Beer Brewery Equipment
SLET

Shangdong ,China

30 working days

5 sets in one month
Heating way:electric heating/steam heating/direct fire heating
Brewery certifications: CE,PED,LVD
Warranty: main beer brewery equipment for 3 years warranty
1000L Craft Beer Equipment Hot Sale 10HL Micro Beer Brewery Equipment
Jinan Shun Long Machinery Co.,Ltd is one of the biggest and best professional beer brewing equipment
manufacturer and exporter in China.Our products include all kinds of large,medium and small brewery equipment,daily
output from 50L~5000L and even larger capacity beer equipment for beer plant.All the equipment can be customized.
Our company strictly follow German beer equipment production technology,design and manufacture beer equipment applying to domestic and foreign customers.
With our perfect before and after sales service,we serve the customers all over the world.You are welcomed to visit our factory and office.
Our company have passed the CE certificate.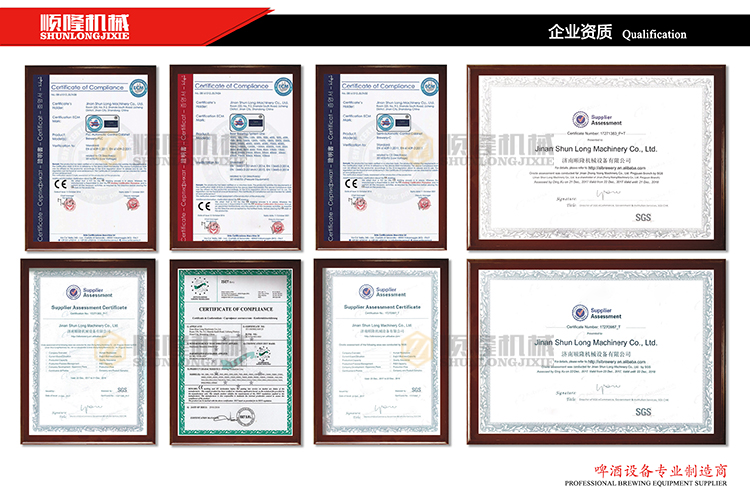 SLET hot sale model specification

Brewery

Size/Batch

Fermenter

Size

Numbers

Beer output per day/Batch

Whole spece

Cellar height

Power

Fermenting period

100L

200L

6

100L

20m2

1.6m

15kw

7-12days

300L

600L

6

300L

40m2

2.2m

25kw

7-12days

500L

1000L

6

500L

70m2

2.5m

35kw

7-12days

1000L

2000L

6

1000L

100m2

3.1m

40kw

7-12days

2000L

4000L

6

2000L

140m2

4.0m

45-50kw

8-14days
Note: 1hl=100liter; 1Gallon=3.7854liter; 1Barrel (BBL) =117Liter;
Complete beer brewery equipment details list:
Machine part

Item

Quantity

Remark

Malt milling system

Malt mill

1

Double/four roller, with grist hopper, hydrator

Saccharifying system

Mash tun

1

SUS,500L volume,with agitator




Lauter tun

1

SUS,500L volume,with agitator




Kettle/whirlpool tank

1

SUS,500L volume,steam/electric heating




Hot water tank

1

SUS,500L,electric/steam heating




Wort pump

2

Stainless steel




Hot water pump

1

SUS




Heat exchanger

1

SUS,double stage




Mashing pipes

Assorted

SUS




Working platform

1

SUS

Fermenting system

Fermenters

Follow customers requirements

SUS.700L/1400L capacity,dimple cooling jacket




Bright beer tank




Yeast tank

1

SUS




Beer pipes

1 set

Sanitary tube,plastic




Coolant pipes

assorted

SUS




Insulation pipes

assorted

Polyurethane

Cooling system

Ice water tank

Assorted

SUS,double layers,polyurethane,capacity being confirmed as actual cool requirement




Refrigerating unit




Ice water pump

1

SUS




Pipes/valves

assorted

SUS

Cleaning system

CIp station

1 set

100L,SUS,include alkali,acid,sterilize.

Control system

control cabinet

1

SUS,with power control
The finished beer brewery equipment pictures: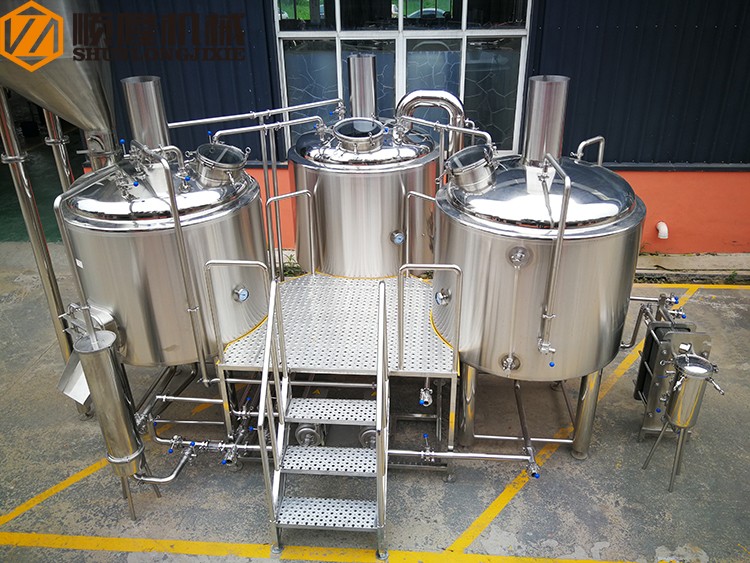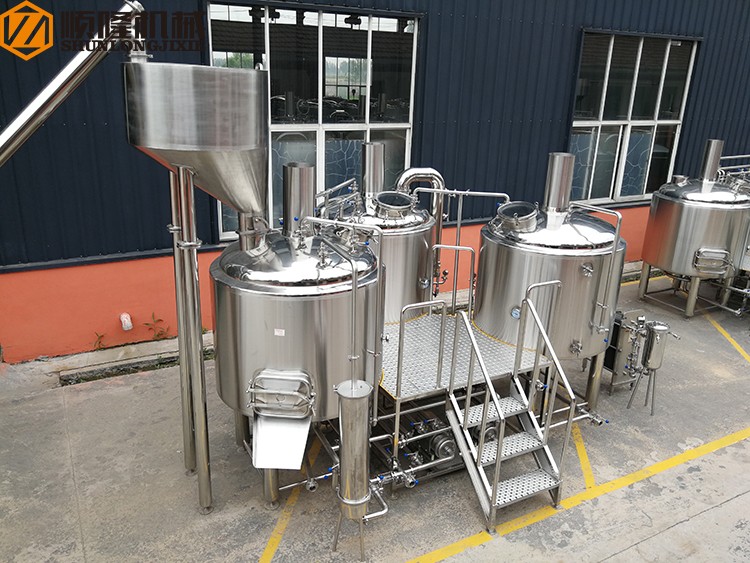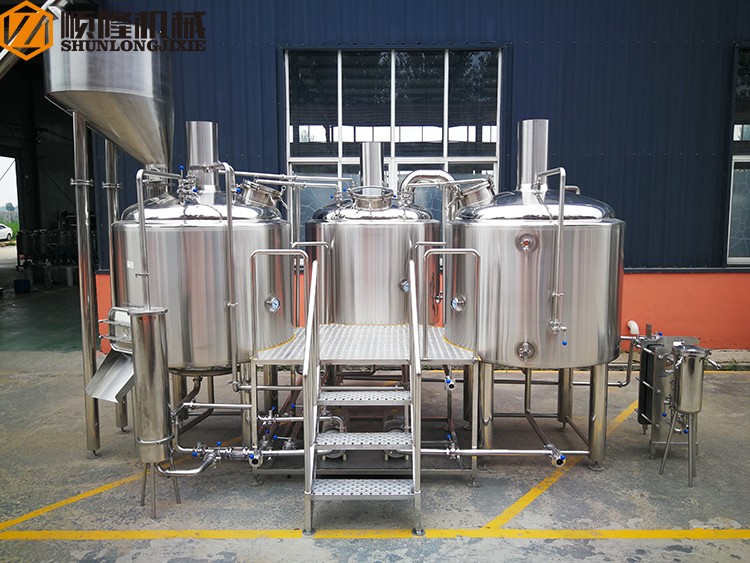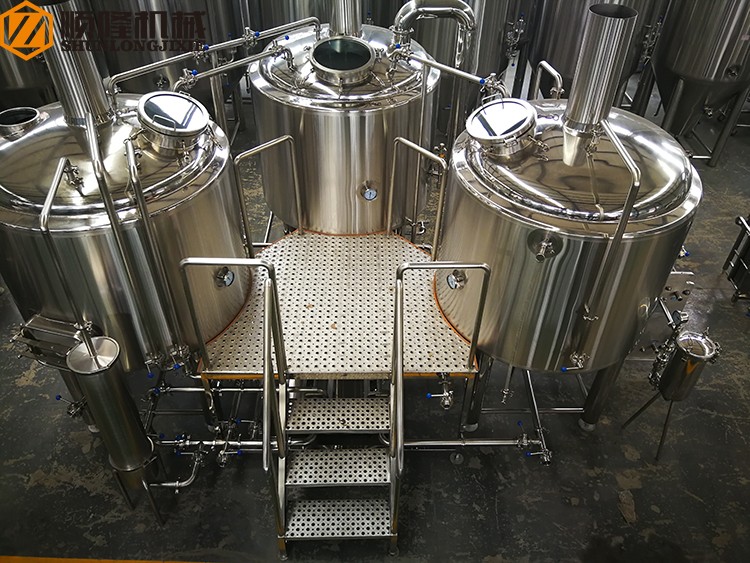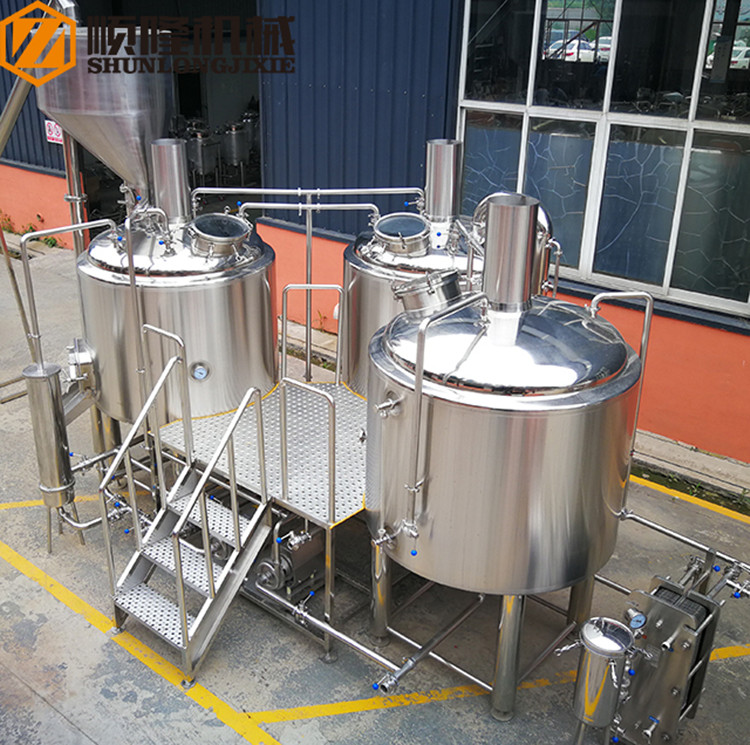 Conical beer fermentation tanks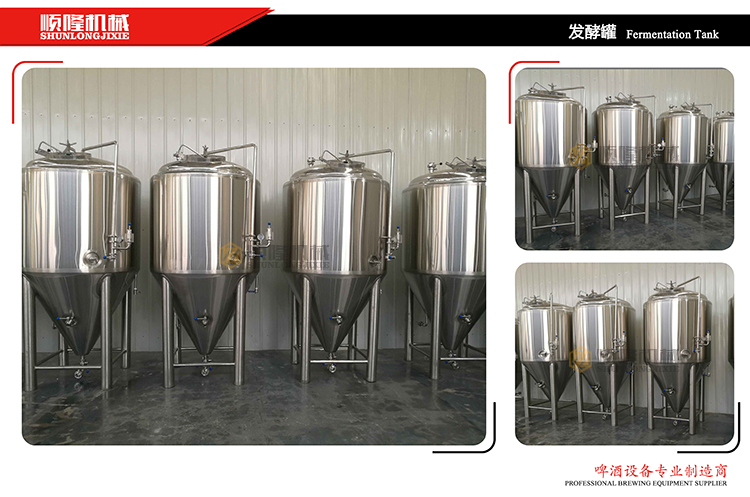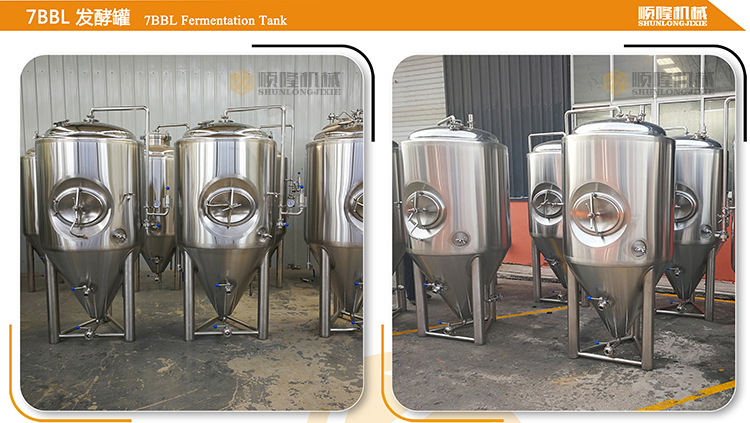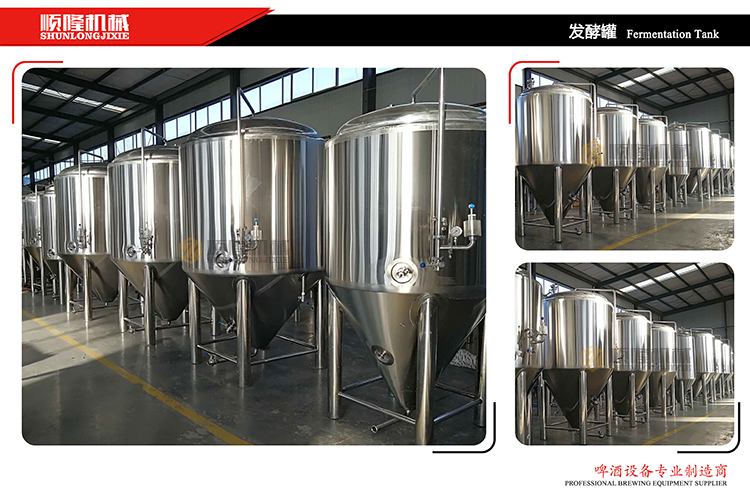 The deatails of the beer brewery equipment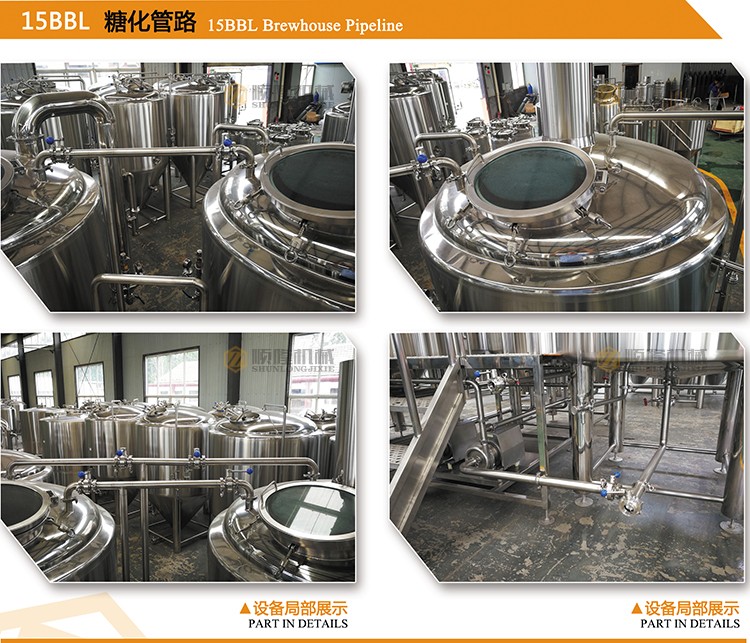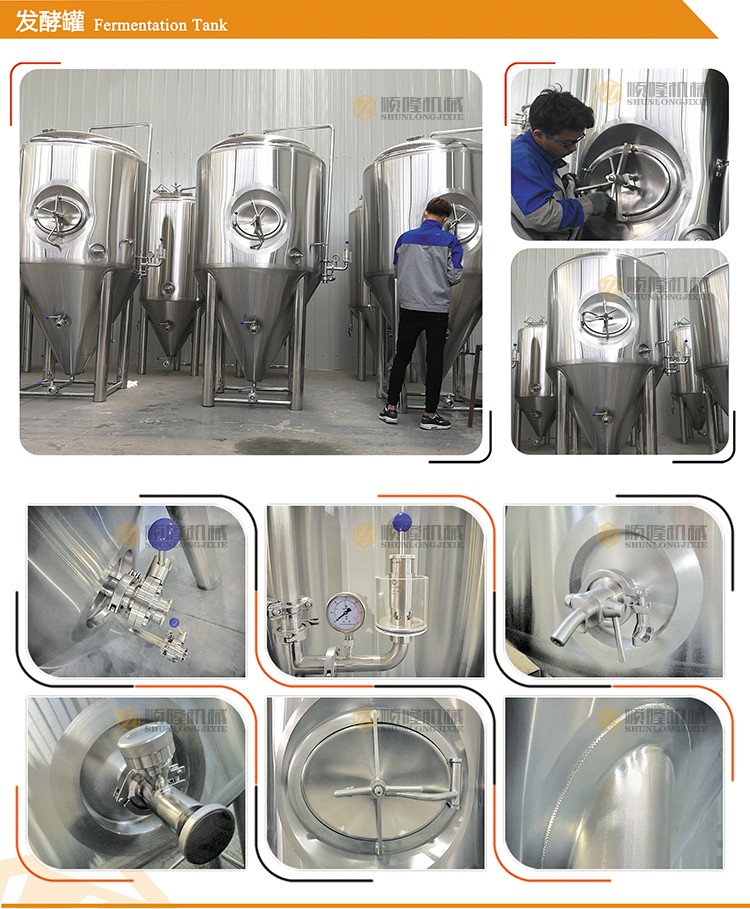 Our services:
1.Make the equipment details specifications to customers.
2.We can supply the OEM process,according to the drawings,the samples to customized the beer equipment
3.Layout plan in CAD drawing.
4.The competitive price and the timely delivery
After-sale service:
1.Provide the required customs declaration files,timely tracking freight.
2.The equipment main configurations for 3 years warranty time,such as the valves and so on
3.Professional engineers for installation,commissioning,maintenance
4.Directed by executable remote installation(with no experience in beer,equipment installation experience,can also perform operations,please make this clear before custom equipment,we have successful cases)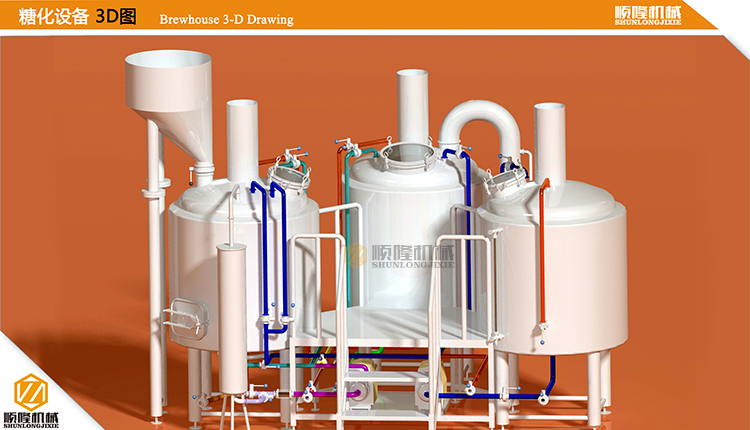 The beer brewery equipment brewing process
Once equipment is installed to form the brewing "system", you can begin to produce fresh, craft beers. Here are the steps of the brewing process as the ingredients flow through the system:
[ 1 ] - Mill
A high-quality, adjustable, two-roll mill crushes the barley to the desired coarseness to form grist.
[ 2 ] - Combi Vessel
Actually two tanks in one: In the top unit, called the Mash/Lauter Vessel, grist and hot water are mixed to produce mash.From this, a clear substance called wort is extracted. The bottom unit of the Combi VEssel holds the additional hot water (liquor) needed for brewing and clean-up
[ 3 ] - Manifold
During the brewing process, wort and hot and cold water must move easily through the brewhaouse. The Manifold is a nine-valve control station which allows all liquid to transfer in a safe, sanitary manner. This eliminates liquid spillage and contamination, which may occur when connections or disconnectiong hoeses and clamps, or using swing arm panels.
[ 4 ] - Brew Kettle
Here wort is brought to boil and mixed with hops, which adds bitterness and aroma to the mixture. Depending on customer preference, the Brew Kettle can be directly gas-fired or steam heated. It mau ca clad in stanless steel and copper, or furnished with the classic onion0shaped dome.
[ 5 ] - Plate Heat Exchanger
Using tap water, chiled water, glycol or a combination of the three, this compact unit efficiently cools wort before it's transferred to the fermenter. The Exchanger also returns excess hot water to the Hot Water (liquor) Tank for use in the next brew.
[ 6 ] - Fermenters
HEre yeast is added to wort to create the distinctive composition and flavor of beer. Our special disign allows for fermentation, aging, carbonation and lagering all in onetank, if desired. This saves the brewer time and minimizes space. Fermenters are individually temperature controlled. (ASME Code Approved Optional.)
[ 7 ] - Filter
At this stage, yeast is removed from the mixture, eaving brillantly clear beer. A palte-and-frame or horizontal diatomaceous filter is employed to recover every last drop of beer to minimize and filter the product for packaging.
[ 8 ] - Serving Vessels
These units receive and hold the filteres beer for direct service to the bar. Or thay may be used as holding tanks for packaging the product. (ASME Code Approved Optional.)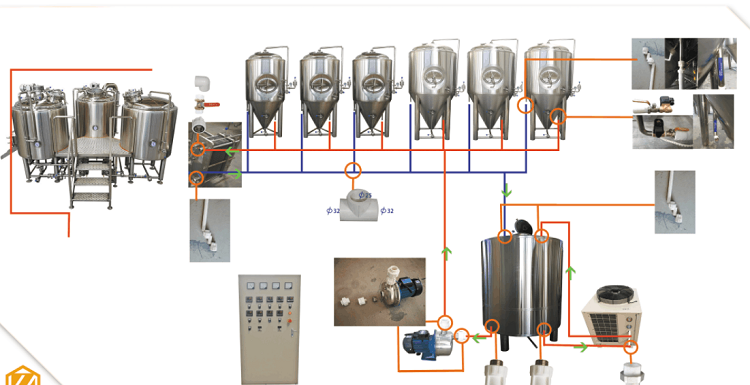 Welcome you to our factory to visit the brewing equipment.
You can contact me any time if you have the interestes.