Buy 1200L stainless steel beer brewing equipment manufacturer
10BBL 1200L Stainless Steel Beer Brewery Equipment Restaurant Brewery System
SLET

Shangdong ,China

30 working days

5 sets in one month
10BBL 1200L stainles steel beer brewery equipment restaurant brewery system
Thickness of tanks:inner3.0mm outer 2.0mm
Certificate:CE,PED,LVD
Insulation material:polyurethane 80-100mm
10BBL 1200L stainless steel beer brewery equipment restaurant brewery system
Our company is a private enterprise integrating with R&D, processing and engineering installation which is specialized in manufacturing of beer brewing equipment.
1.Available with polished stainless steel brewhouse vessels
2.Available with steam heating
3.Modular brewhouse design, available either in a 2-Vessel version (brewkettle/whirlpool and mash/lauter tun, shown above), or 4-Vessel version with separate brewkettle, whirlpool, mash tun and lauter tun.
4.Optional hot and cold liquor tanks are also available
Beer brewing procedure:
Brewing is typically divided into 9 steps: milling, malting, mashing, lautering, boiling, fermenting, conditioning, filtering, and filling.
The mashing-lautering-boiling-whirlpool take place in the brewhosue, turn the malt into wort.
In order to provide the one-stop service, we could help you purchase the yeast, hops and other related raw materials for you.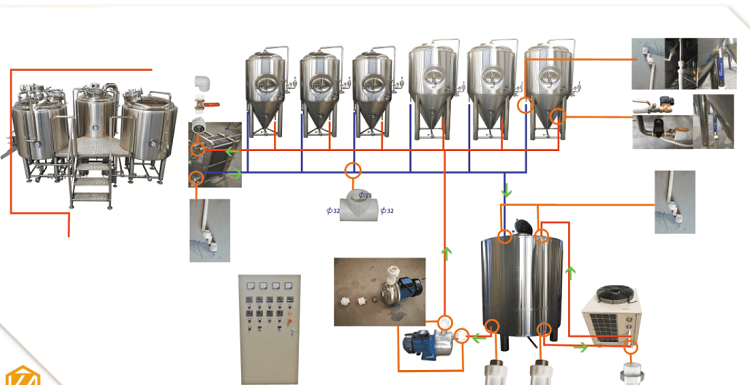 1200L beer brewery equipment introduction:
Brew house unit :
1) Two mashing tanks : Mash tun/Lauter pot and Kettle/Whirlpool tank (Standard Configuration) Combined mashing tanks and three mashing tanks can be chose.
2) Power Controller : Control and show the temperature and time for the tanks.
3) Wort heat exchanger, yeast adding tank and oxygen filling device, hops adding device, etc.
4) Steam condensing device inside of the room (Heating method can be customized)
5) The raw materials for China, pipeline & valves with German standard;
The motors adopts ABB/Siemens brand , it is more convenient for the customer during operation.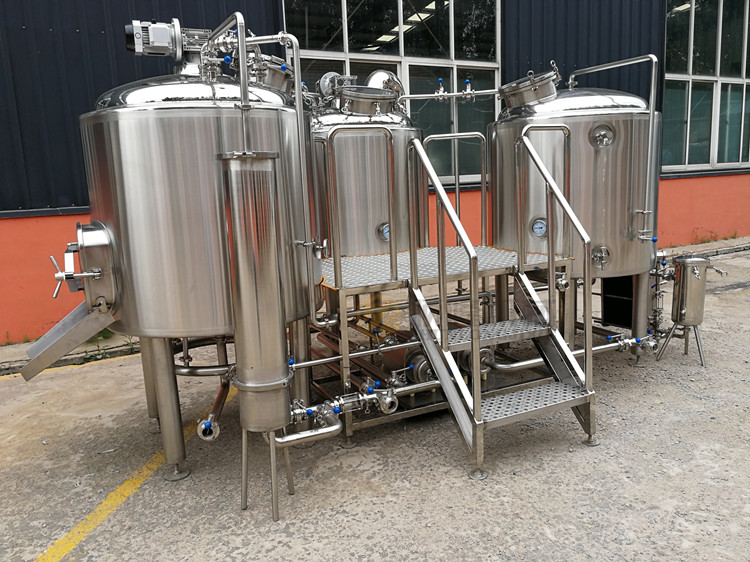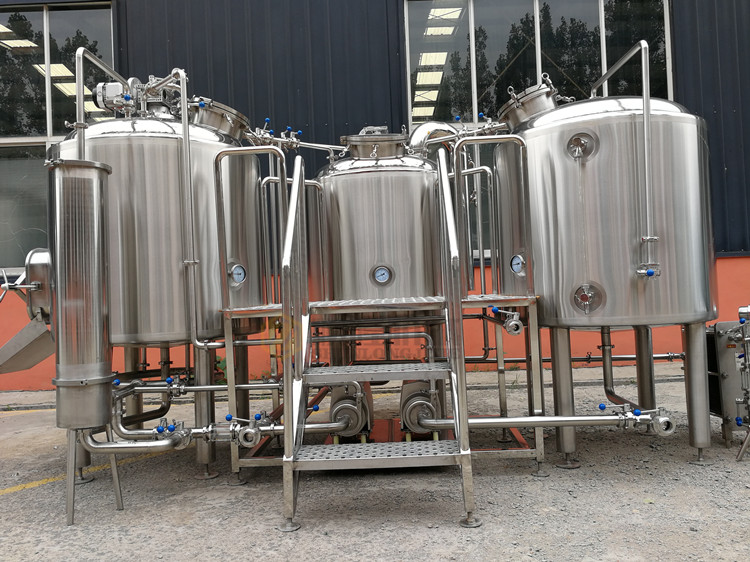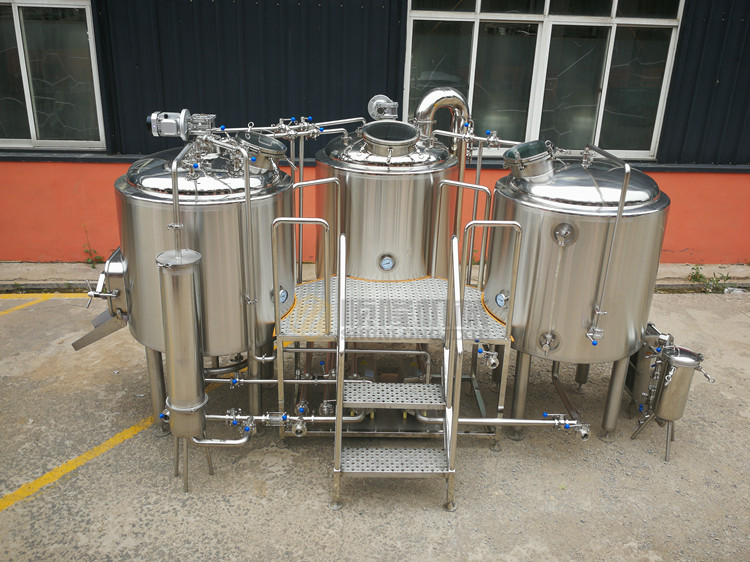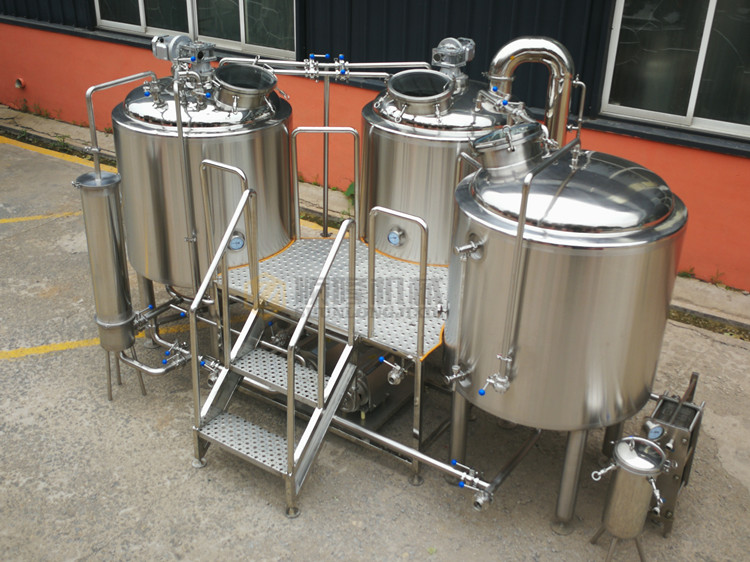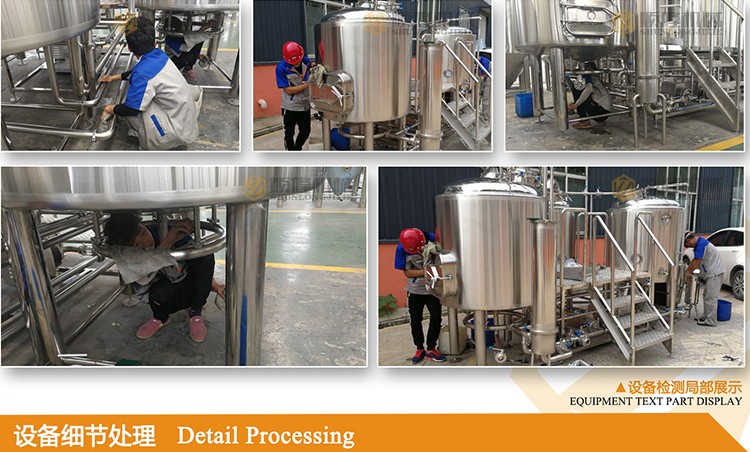 Beer fermentation tanks
1.Inner are of international standards of quality 304 stainless steel material, high-pressure polyurethane foam insulation, the jacket in accordance with customer requirements, can be polished stainless steel, matt, carbon steel, the form of spraying.
2.The application of international standardized fermented beer production technology, a wide range of temperature control application technology, mirror polishing inside the tank, up to ≤0.8u≤0.6um≤0.2um polishing quality standards, fully meet the PLC automatic cleaning and disinfection of the controlled system requirements.
3.Fermentor cooling jacket at the same time meet the needs of the country the world's technical standards, the provision of Maitreya paneles, arched passages spinulosa Watt Jacket channel heat exchangers and other methods to meet different cooling media and the pressure of the heat exchange technology needs.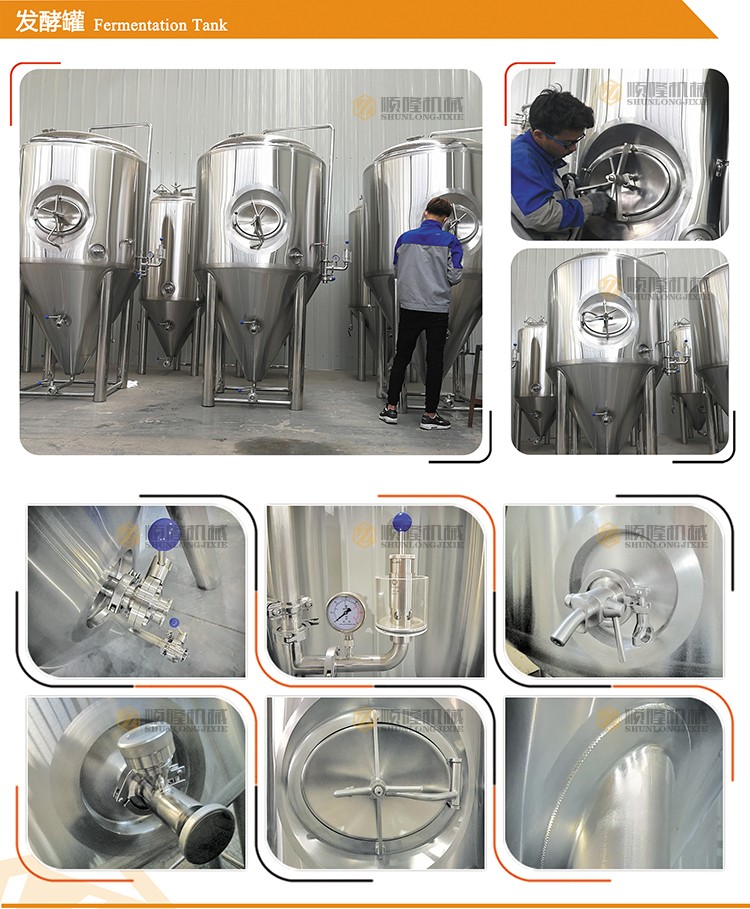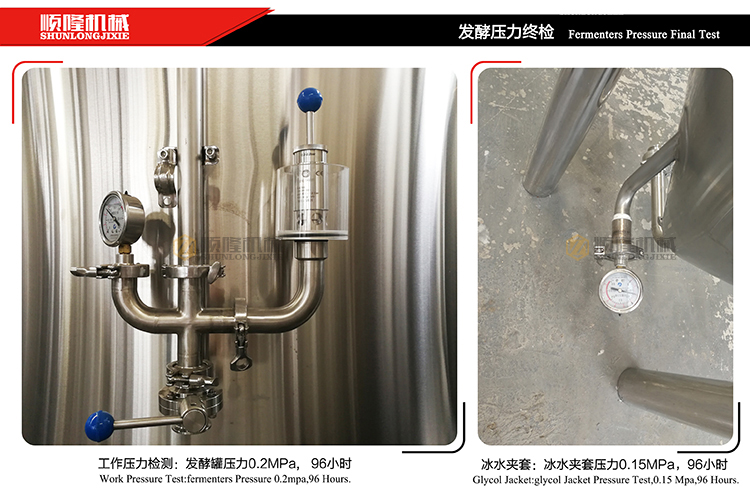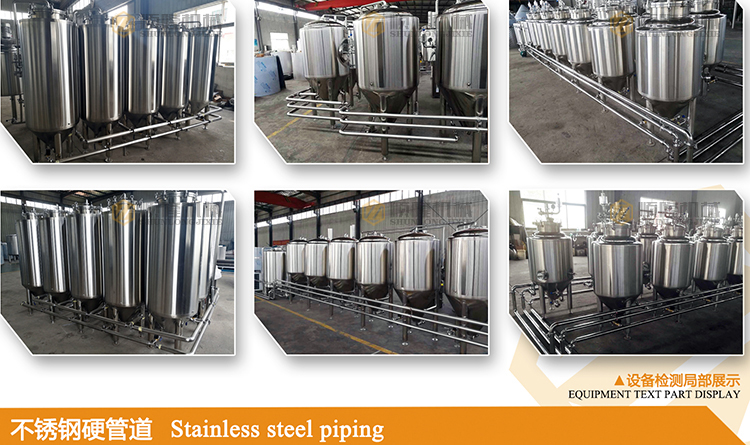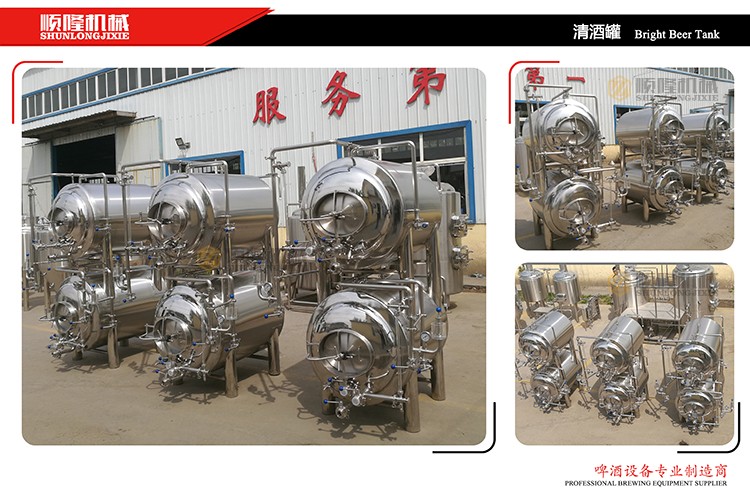 Material: stainless steel AISI 304

Tanks thickness: 3mm

Inner surface treatment: cold-rolled plates , 2B surface treatment, welds grinded to Ra 0,8µm.

External surface treatment: cold-rolled plates grinded to SBCooling:

Cylinder: 3 cooling-sections

Conical bottom : 1 cooling-section
Working pressure in cooling-sections - 1,5 bar

Insulation: Polyurethane - thickness 150 mm, density 1,09 g/cm³:both cylinder and conical bottom

External-Jacket: Stainless steel plate - thickness 1,5 mm, both cylinder and conical bottom

Working pressure: 1,5 bar in cylindrical-part (filled-up tank, at 20°C)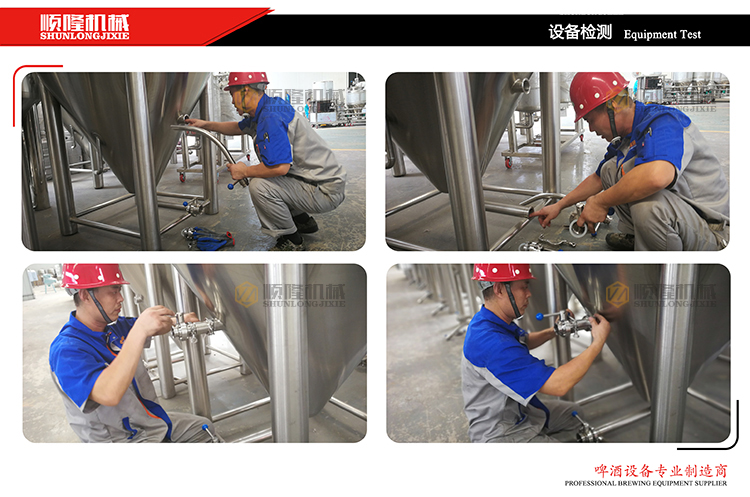 The other accessories:
Shadowless Manway

Thru the Wall Spray Ball

CIP Lines

Ball Valve for CIP

Pressure Relief/Vaccumm Valve

Rotating Racking Arm with

Ball Valve

Pull Handle Butterfly for Drain

Thermometer

Thermowell

Sampler Valve

Three-layer with dimple jacket

and 60 °Conical Bottom

Solid round Legs

Pressure Gauge

Insulated Polyurathane Filled

Mirror polished,no rough edges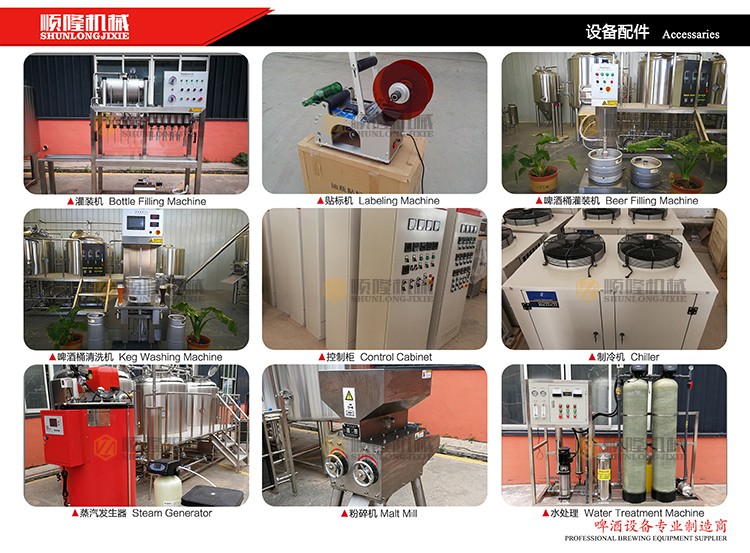 The packaging and delivery:
stainless steel brewery equipment with 300l 500l per batch
Our equipment is well designed by professional designer, and adjustable according to your request. The best material is used to product your machine. The equipment is carefully packed before delivering.
LCL/FCL(20GP/40GP/40HQ)

packed with plastic film in fumigation free wooden case or fixed with iron frame

up to export standard, suitable for delivery

customer's requirements available
We ensure every order will not live up to the customers' requirement. Every order will be check by the professional skilled engineer before shipping.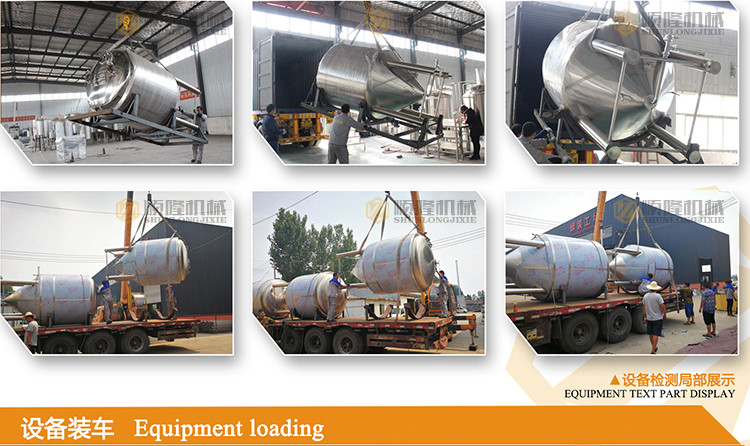 Professional Pre-service:
We can supply design service free according to customers' request.

We can supply budget assessment service upon our many years' experience.

Customers are welcome to come to our plant base to visit and inspect, and we would like to give a warm reception.
Sound After-service:
Our brewmasters or engineers are available to supply service at buyers' appointed places.

We will give timely effective instruction about application of equipment as best as we can.

We supply turn-key project.
FAQ:
1. Q: Do your products could be customized?
A: Yes, the beer equipment could be customized.

2. Q: Do you supply after-sales service?
A: Yes, we could supply after-sales service. We have 6 full-time engineers and other 4 part-time engineers available to go abroad to train installing and brewing.

3. Q: How long will the full set of equipment be guaranteed?
A: Three years warranty for main machine, one year warranty for the accessories.

4. Q: Are you trading company or manufacture?
A: We are a professional manufacture of beer equipment in this field.

5. Q: How is the proportion of your domestic market and foreign market?
A: 40% for domestic market, and 60% for foreign market.

6. Q: How long will the full set of equipment be shipped to us if we order it?
A: It will take 30-40 days to produce the full set of equipment.

7. Q: What should we do if there are problems during the process of using the equipment?
A: Firstly, we will communicate through email, skype or telephone, but if any accessory parts lead to problem, the accessory parts will be posted to you. If problems cannot be solved by all above mentioned method, our engineer will go abroad to solve for you.

8. Q: Do you also sell raw materials of brewing beer?
A: Yes, we do. We sell different kinds of raw materials including hops, yeast and malt.