1500L New Design Beer Brewery Equipment Red Copper Four Vessel Beer Brewhouse System
1500L New Design Beer Brewery Equipment Red Copper Four Vessel Beer Brewhouse System
SLET

Shangdong ,China

30 working days

5 sets in one month
1500L new design beer brewery equipment red copper four vessel beer brewhouse
Four vessel: boiling tank,lauter tun&whirlpool tank,hot water tank
Material: red copper material
Heating way:gas heating
1500L new design beer brewery equipment red copper four vessel beer brewhouse system
Communication and cooperation, we work together ! ——Shun Long Machinery
From 50L-5000l capacity brewery equipent can be customized the equipment.
Beer Brewery Equipments List of Various Models
Some standard scales of plants are available for small a brewery as below. Our company is able to specially design as your request.
| | | | | | |
| --- | --- | --- | --- | --- | --- |
| Model Capacity | SL-1000 | SL-2000 | SL-3000 | SL-4000 | SL-5000 |
| Capacity | 1000L/Day | 2000L/Day | 3000L/Day | 4000L/Day | 5000L/Day |
| Area Request | 100M2 | 150M2 | 200M2 | 300M2 | 400M2 |
| Installed Power | 15Kw | 20Kw | 25Kw | 35Kw | 40Kw |
| Steam Request | 0.15Ton/Hr | 0.2Ton/Hr | 0.2Ton/Hr | 0.3Ton/Hr | 0.3Ton/Hr |
| Water Consumption | 2M3/Day | 3M3/Day | 5M3/Day | 6M3/Day | 8M3/Day |
Brewery Equipments Components of Beer Brewing Plant

Main items

Main machine

Malt milling system

Double rollers malt miller machine

Saccharifying system

Mash tun/kettle boiler, lauter tun/whirlpool tun, wort pump, Mirror polishing

Mechanical agitation: Stirring moter adopts variable frequency stepless speed

control, improve wort preparation time.

Fermenting system

Fermentation tank, inner tank adopts international standard food grade SUS.

304 All welding us double-sided welding argon gas protection, double-sided forming can improve the weld ability if under pressure.

Mirror polishing

Heating system

Electric heating/ steam heating/ direct fire heating

Control system

Control cabinet, touch screen. Simens /LG PLC control

Chiller system

Ice water tank, cold water tank and pumps, plate heat exchanger, chiller

Filter system

Membrane filtration or plate filter machine or Diatomite filter

Storage system

Beer bright tank, beer storage tank

Cleaning system

CIP cleaning system, include alkali tank and disinfection tank, cleaning pump.

Cleaning ball: internal comprehensive cleaning, improve the quality of

internal cleaning.

Filling system

Manual and automatic bottle filling line, keg filler and washer machine

Selling system

Beer selling tower, Beer selling tank, keg or bottle beer.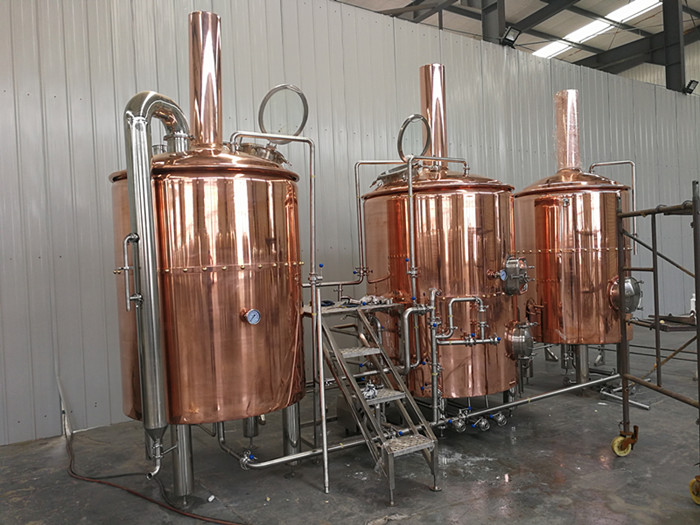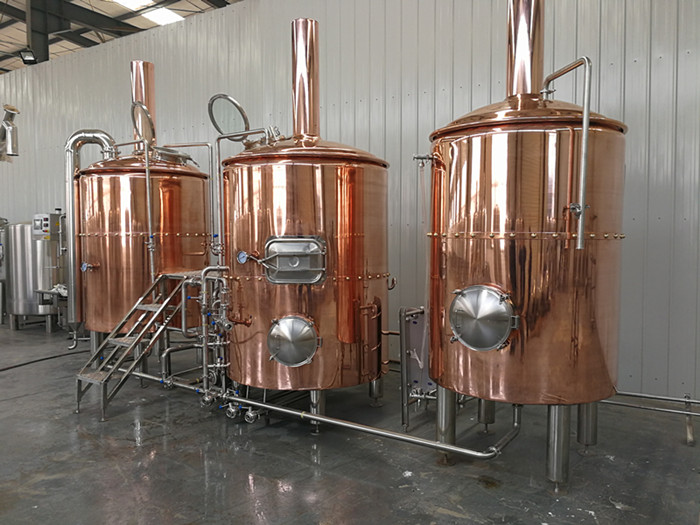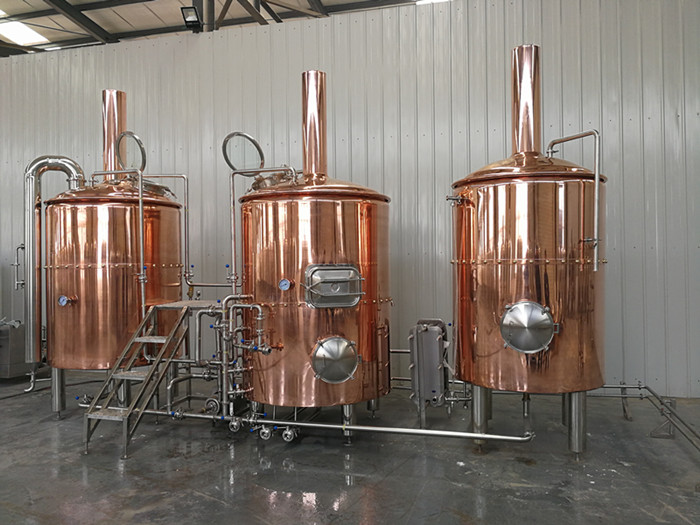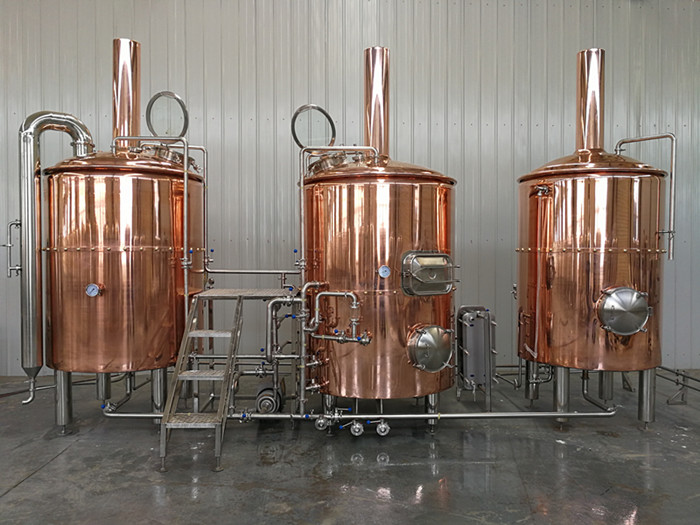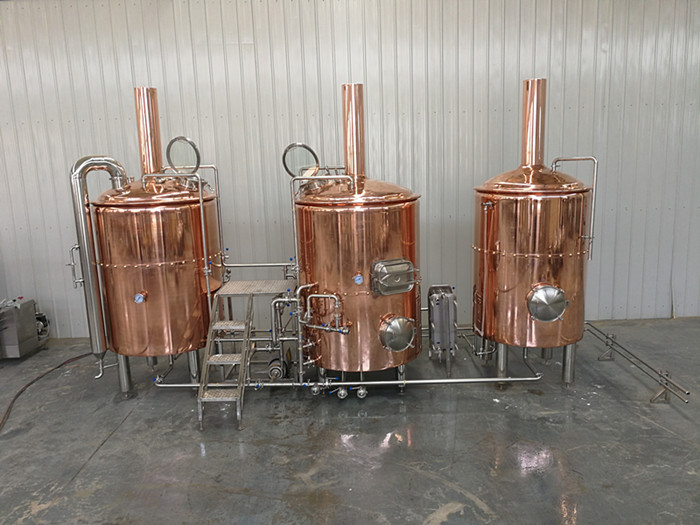 The complete 1500L red copper brewhouse: Mash tun/boiling tank,lauter tank&whirlpool tank(at the bottom),hot water tank-four vessel brewhouse
Inner-Jacket (SUS304 SS) thickness: 2.5-4.0mm;
External-Jacket (SUS304 SS) thickness: 2.0-3.5mm;
Mushroom-shaped head (SUS304 SS) thickness: 2.5-4.0mm;
Insulation layer: PU/Rock Wool-thickness: 80mm;
Lauter tank equipped with plow knife;
CIP cleaning ball: Material: SUS 304; Comprehensive cleaning;
Polishing precision up to: Ra0.4µm;
Outsourcing surface: Plate protection and sand polish on welding seal.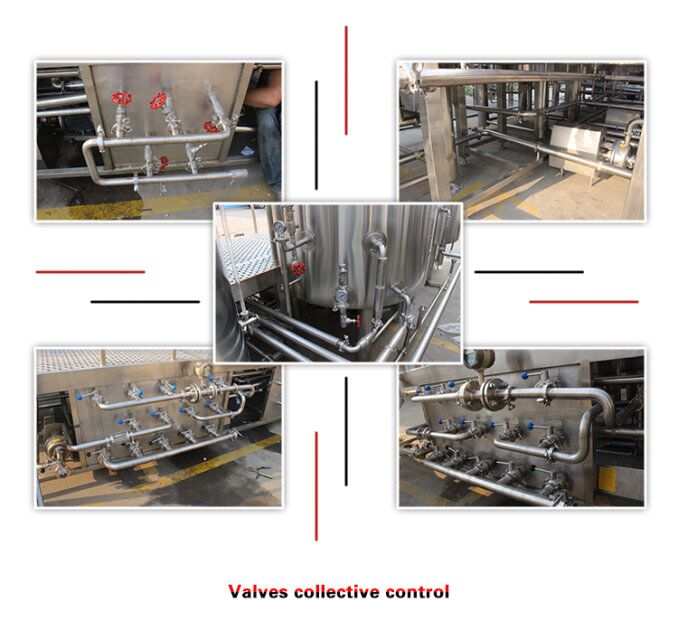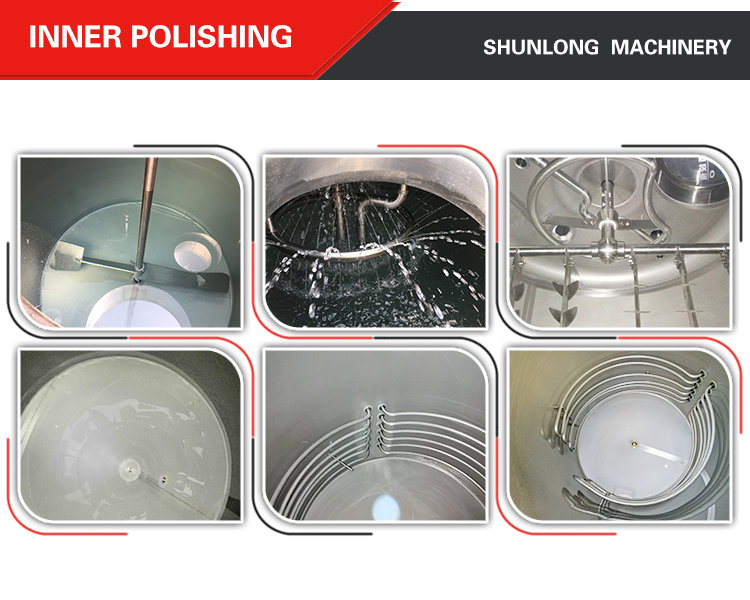 Auxiliary system advantages:
1.Complete new auxiliary systems.
2. Auxiliary systems equipment selection of leading brand and imported brand equipment.
3. The auxiliary systems are long service life, high-performance, high-quality, low-loss.
4. Stainless steel fittings materials are all adopt SUS304/316, applicable beer equipment to ensure the safety of food grade.
5 electrical accessories reach CE export standards.
6. Various auxiliary systems role in the whole equipment system, supporting reliable (available free matching).
7. Supporting auxiliary system voltage and frequency match exactly.
8. Stable quality, superior performance, strict quality control.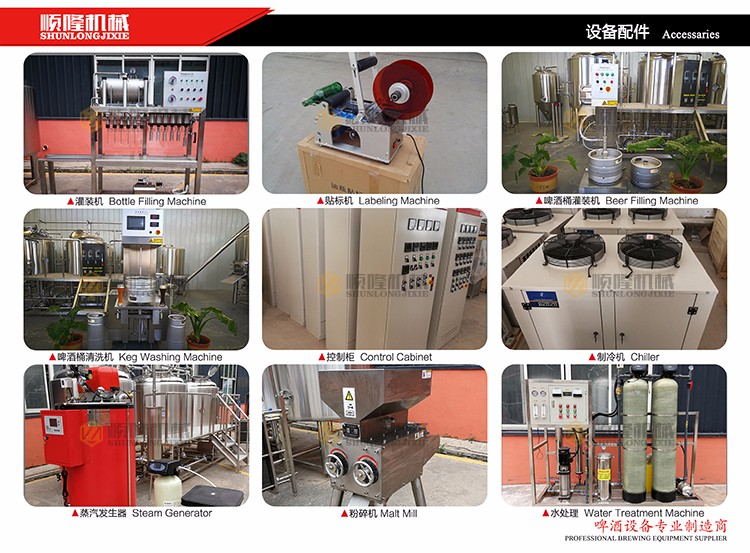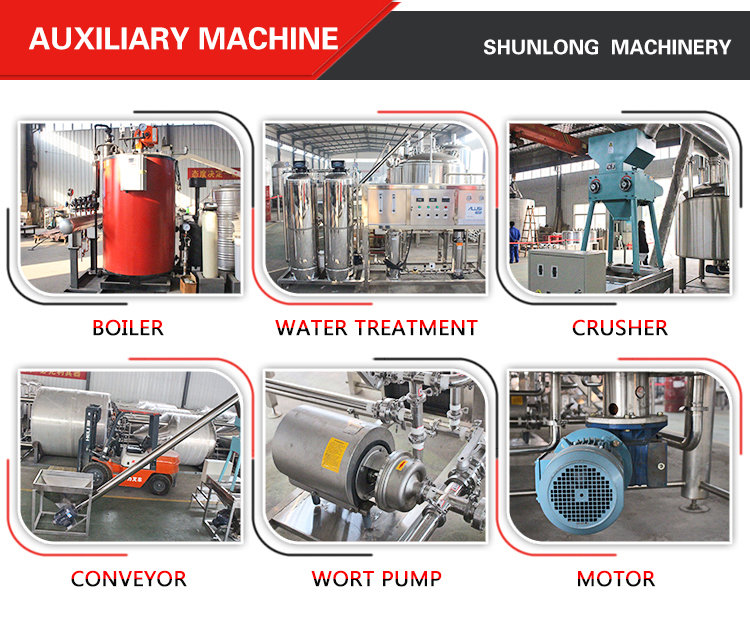 Pre-sale service:
1.Make the equipment details specifications to customers.
2.We can supply the OEM process,according to the drawings,the samples to customized the beer equipment
3.Layout plan in CAD drawings of beer machine
4.The competitive price and the timely delivery
After-sale service:
1.Provide the required customs declaration files,timely tracking freight.
2.The equipment main configurations for 3 years warranty time,such as the valves and so on
3.Professional engineers for installation,commissioning,maintenance
4.Directed by executable remote installation(with no experience in beer,equipment installation experience,can also perform operations,please make this clear before custom equipment,we have successful cases)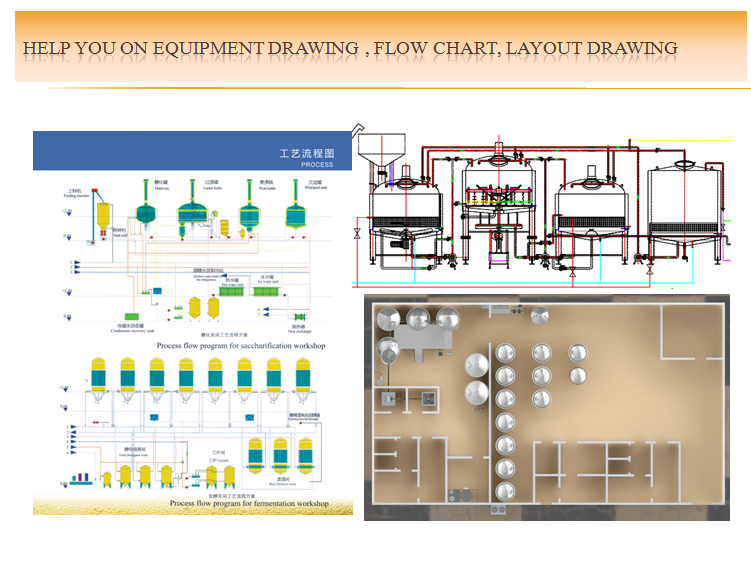 FAQ:
Q: What size building do I need?
For a brewpub a lot depends on what your yearly volume is and how many different types of beer you want to offer. The minimum surface starts at about 20m2. There are also some estimate area requests in our different brewery systems in specification above.
For microbreweries the main factor is yearly volume. For small microbreweries a floor space of 300m2 is often more than sufficient.
For details on your project, we can give you exact dimensions and requirements.
Q: What utilities do I need for a brewery?
Typically water, electricity and drains are needed.
In general 2 and 3 phase electricity is needed and can be 110/220/380/400/415/440 at 50/60Hz.
The size of the water connection is determined by the size of the brewery but for most projects 5.000 liter of water per hour with a pressure of 3 bar is sufficient.
For your steam boiler a natural gas connection or a tank with light oil will be needed.
Because of the temperature, steel pipe drains are preferred in a brewery and sufficient drains are always handy.
Q: What's your production range?
Full set beer brewery:
Home brewery: 50L,100L pilot/home beer brewery
Commercial brewery: 100L, 200L, 300L, 500L, 1000L, 3BBL, 5BBL, 7BBL, 10BBL pub/restaurant, micro brewery plant
Large brewery plant: 1000L, 2000L,3000L,5000L, 10BBL,15BBL, 30BBL brewery plant
Brewhouse:100L~5000L, mash tun, lauter tank, kettle/whirlpoo tank
Fermentation: 100L~10000L conical fermenters, unitanks, conditioning tank
Bright beer tank: 100L~10000L serving tanks, BBTs
Beer selling: beer tower, beer selling tank, stainless steel beer kegs, keg filling, keg washing, bottle filling, bottle washing, capping machine and etc.
Q: How long for the delivery time?
In general , the delivery time is within 2 months. If you need urgently, we could arrange production for you in advance.