High quality 10BB micro brewery brewing equipment promotion
Turnkey Microbrewery System 10BBL Beer Brewing Equipment
SLET

Shangdong ,China

30 working days

5 sets in one month
Turnkey microbrewery system 10BBL beer brewing equipment
Manhole:top manhole or side manhole
Material:sus304,316,red copper
Heating way;electric heating/gas heating
Turnkey Microbrewery System 10BBL Beer Brewing Equipment
Customer design top or side manhole Fermentation tank turnkey micrbrewery system 5bbl 7bbl 10bbl 15bbl 20bbl brewing equipment
Jinan Shun Long Machinery Co.,Ltd supply all-round service include layout drawing,customer design

service,transportation,installation and training service.All details take the humanity and brewmasters'

intention into consideration.
Reliable quality is guaranteed by professional technical support,advanced processing equipment,strict

quality control and complete personal training.
Insisting the idea that craft beer brewing should be in popular style,we always keep our system affordable which can help more brew masters to achieve their brewing dream.
Shun Long,your honest beer brewing business builder.

10bbl beer brewing system configuration list for reference




Mash / Lauter


False filter bottom


Kettle / Whirlpool


Tangent Whirlpool


Heating


Electric / Steam heating


Crusher system


Malt mill


300-500 kg/hr


Wort cooling


Plate heat exchanger


7-12 m2


Stainless steel


Conical fermenter tank


Dimple jacket


Bright beer tank


Carbonate stone


Pressure design


Working:0.2Mpa


Testing:0.4 Mpa


Cooling system


Glycal water tank


30bbl or more


SUS 304


Refrigeration unit


7HP or more


International Brand


Cleaning system


CIP cleaning device


With heating


Control system


Brewhouse control


Fermenting control


Cooling control


The complete microbrewery system include all the parts,we also provide the beer kegs filling system,beer bottles filling system, all the system 3 years warranty and it is turnkey project.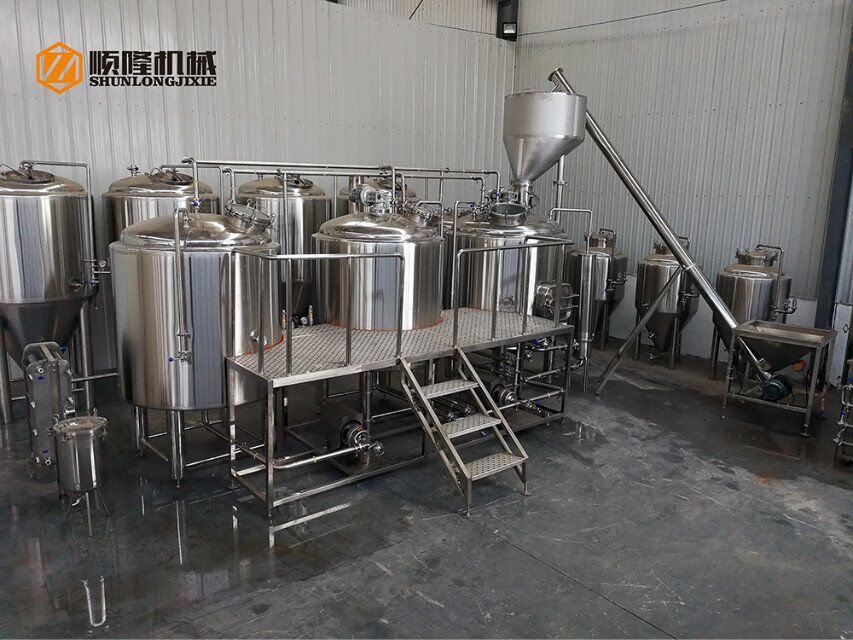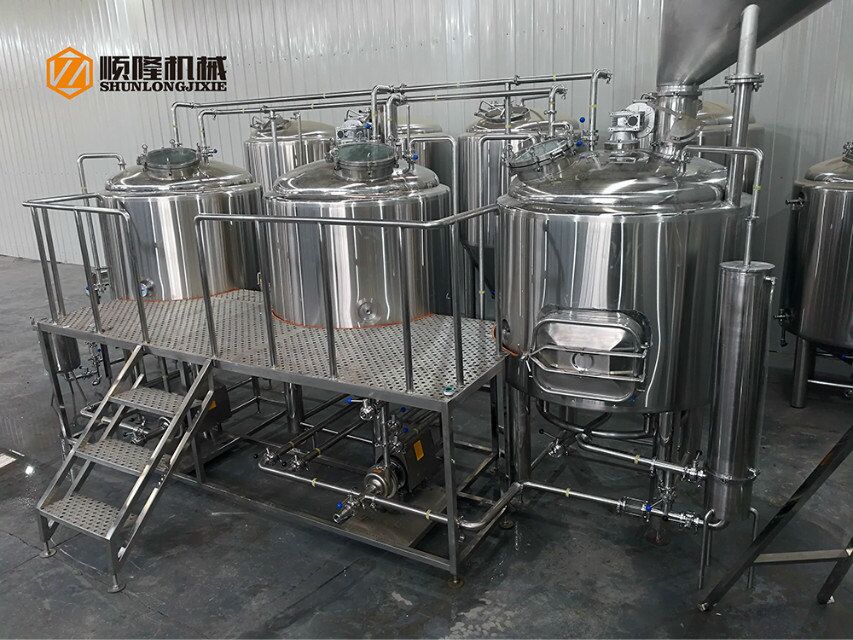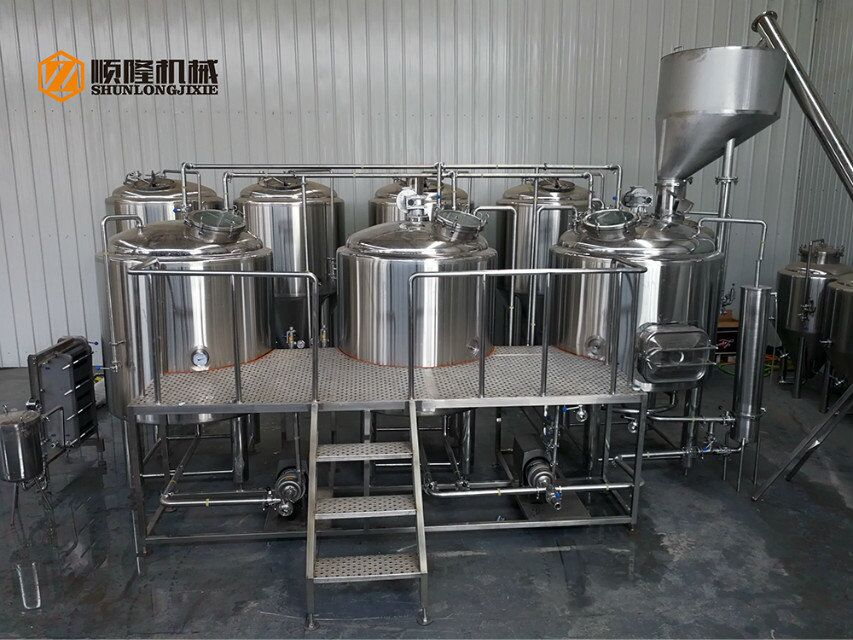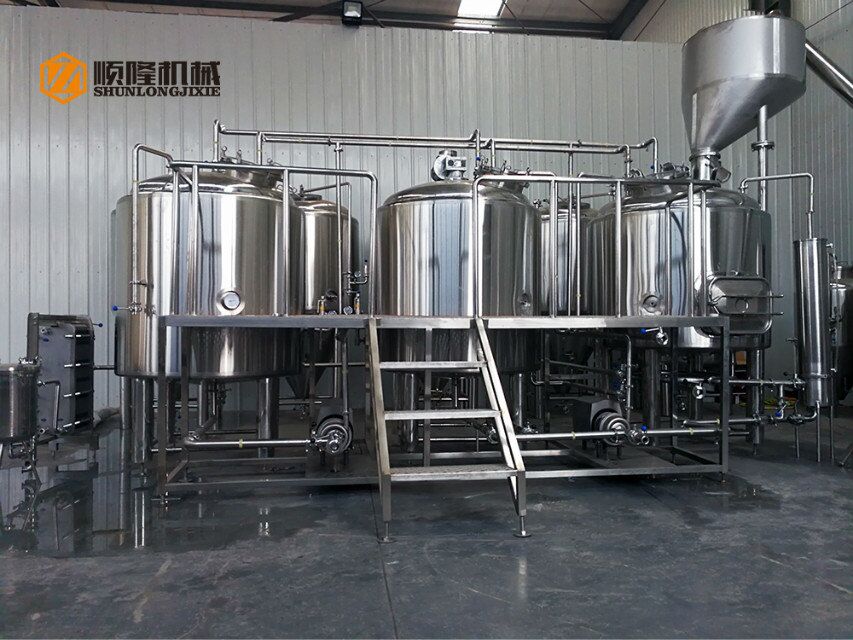 Jinan Shun Long Beer Brewing Equipment Specifications:
1) All the material is food grade SUS 304,it is better for beer.The tanker inner polishing is 0.4 um.

2) The stainless steel 304 inner thickness 3.0 mm,Outer thickness 2.0mm.

3) The fermentation tank and bright beer tank testing pressure 0.4 Mpa keep 48 hours,the working

pressure 0.15-0.2 Mpa.

4) The tanks has the top or side pressure manhole.It is according to customer request.

5) All the main tanks provide 3 years warranty.The parts provide 1 years warranty.
Brewhouse for brewing equipment
The brewhouse include the Mash/Lauter,kettle/whirlpool and hot liquor tank or we can design according to your request.
Interior Shell: SUS304 full welded; TH=3mm
Exterior Shell:SUS304 full welded; TH=2mm
100% TIG welding with pure argon gas shield
Interior Finish:Overall polishing to 0.4 μm without
dead corner
Insulation: Rock wool; TH=80mm
Heating:Steam or electric
Dished top and sloped bottom
Stainless steel Top Manhole
CIP cleaning Ball
4pcs completely SUS304 heavy duty legs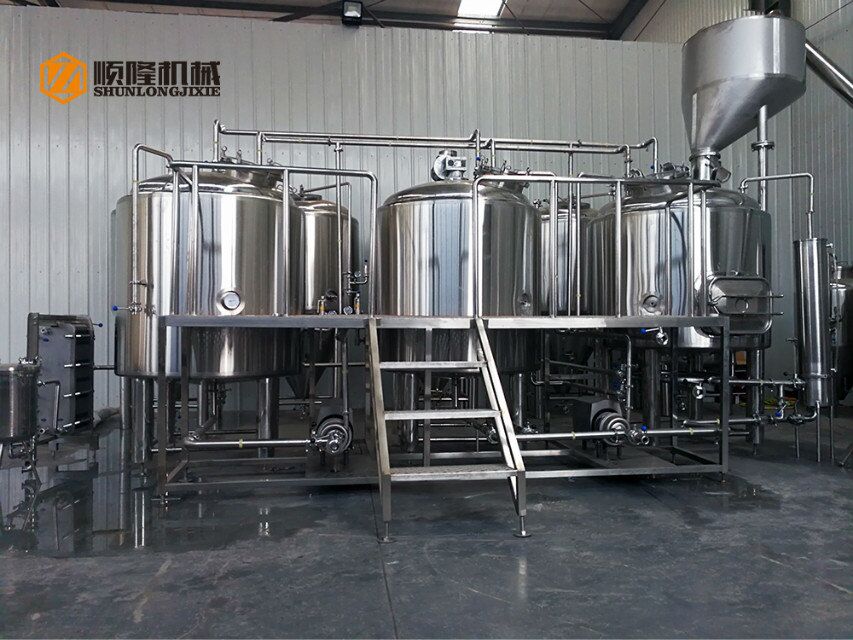 Fermentation tanks
Inner:SS304.TH=3.0mm Outer:SS304.TH=2.0mm
100% TIG welding with pure argon gas shield
Interior Finish: Overall polishing to 0.4~0.6 μm without dead corner
Insulation: Polyurethane; TH=80mm
Glycol Jacket:Dimpled plate on cone and side
Dished head and 60 degree cone bottom
Top or side Manhole:φ 330*430mm.
CO2 blow-off arm with butterfly valve
Full sanitary sampling valve_Perlic Style
Mechanical relief valve 2 bar on CIP arm
Shockproof pressure gauge on CIP arm
Rotating racking arm and port on cone with butterfly Valve
Carbonation port and stone.
Dry hopping port(φ 100mm) with solid end cap
4 pcs completely SUS304 heavy duty legs with

leveling pad and legs support
Thermowell for high accuracy temperature sensor
Working pressure 0.4MPa keep 48 hours;Working pressure 0.2Mpa.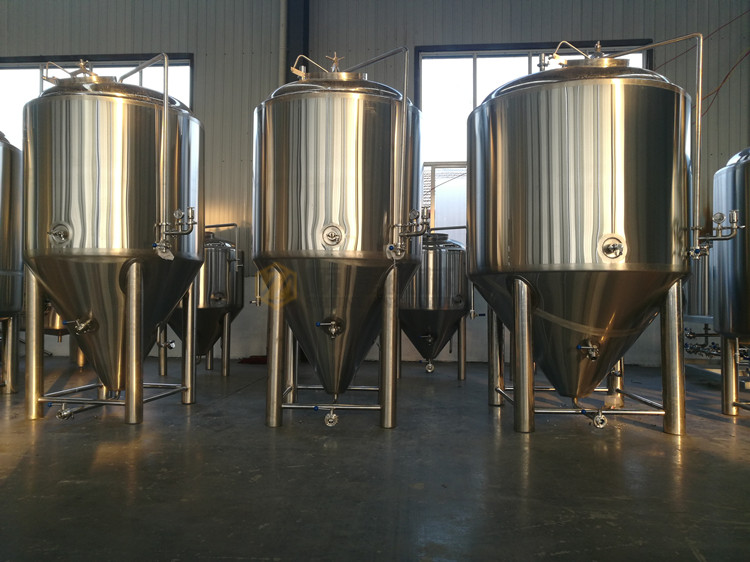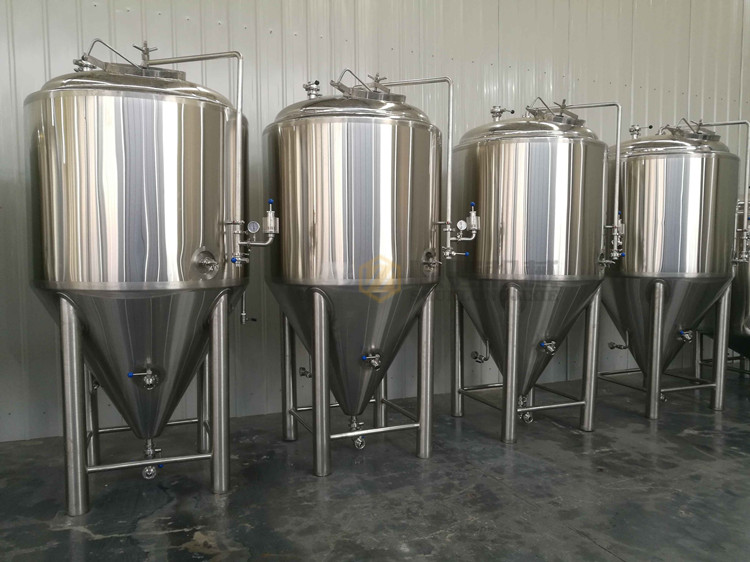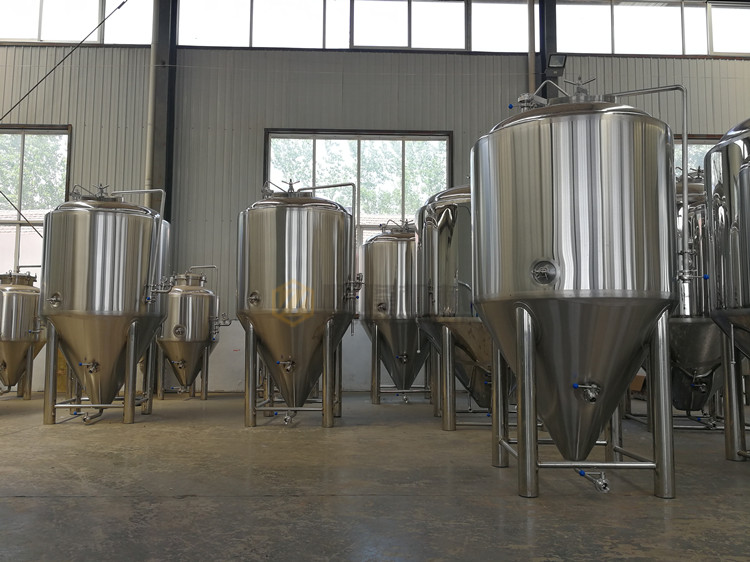 Control Cabinet
Cabinet Material:Anti-power Plastic painting

Instrument panel
Electrical Parts: World wide brand CE certificated
Mashing Pump on/off included VFD
Rake or Agitator motor on/off included VFD
Temperature display and Auto/Manu heating Control for brewhouse tanks
Auto/Manu Glycol Water Pump control
Auto/Manu Chiller control
Temperature display and Auto/Manu Control for

fermentation tanks and BBTs
Temperature display and Control for GWT and CLT
CIP Pump and heating control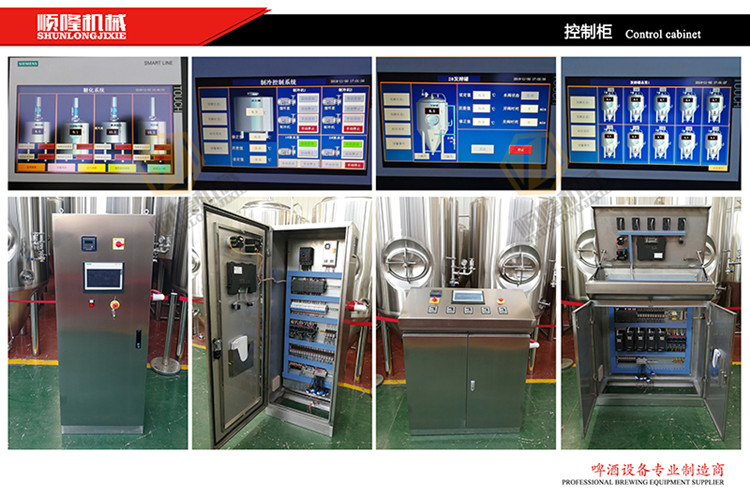 Our services:

1.Pre-sales:
-Layout:Sent us your building floor plan, or the sketch, or tell us the size (length, width, height), we will offer you an equipment footprint according to your requirement.
-Technical Drawings : We will offer Technical Drawings of each tank based on the equipment layout .
-3D effective sketch: We will 3D effective sketch to make sure ensure you have a more intuitive experience.
wokank
2.After-sale
-We can provide weekly production report to let you clear of production progrss and production details;
-We will do equipment test and test report available for you;
-Providing piping connection drawing and English operation manuals;
-Providing equipment installation, debugging, and personnel training service;
-We can help you to arrange transportation till to your location;
-Main machine guarantee for three years; Accessories and electronic components will have one year free warranty; Supply lifetime maintenance and technical service.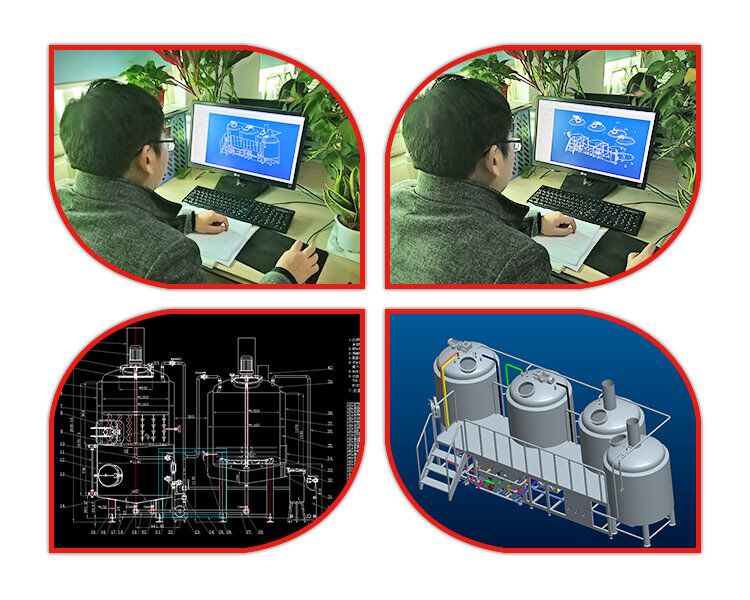 The brewing equipment tanks packaging and delivery:
With plastic paper firstly then outside by iron frame (Export standard packaging)
1.Sound production management and Reliable sea forwarder for many years guarantee the timely delivery.
2.Experienced package guarantee the quality of equipment and ensure customers' satisfying.
3.Packing details: packing with steel stainless and wood cases, standard export package
4. Delivery details: delivery time within 35 days from Qingdao.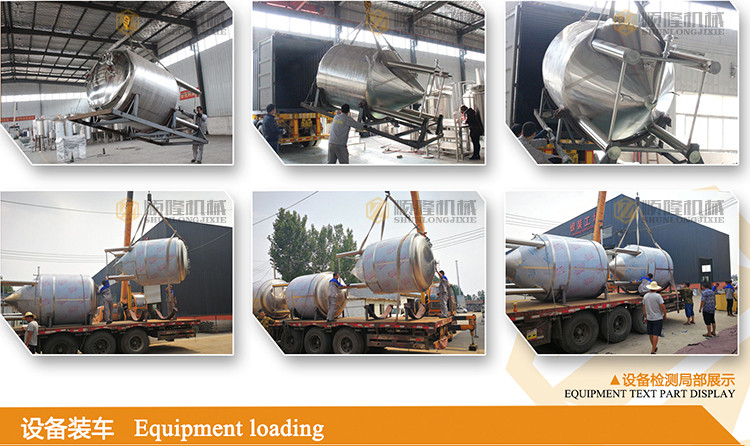 We have got CE, PED, LVD certificates. If necessary, we can offer electronic record's certificates but the original document must be kept in the company.
Our customer segmentation is mainly focused on the Euramerican developed countries such as the USA, Canada, the United Kingdom, Australia and Russia, etc. At present, we have no formal foreign agents but we are looking for superior agents to create a brilliant future.
Welcome you to our factory to visit our beer brewing equipment